Erykah Badu To Become Midwife! Why We Need More Black Midwives & Doulas.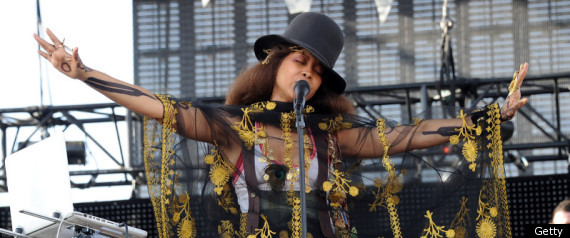 I was so excited to learn that Erykah Badu wants to become a midwife. I wasn't surprised though, since I've been watching her spokesperson work with the International Center for Traditional Childbearing–an amazing organization run by an equally amazing woman, Shafia Monroe. Shafia and I got to know each other through my work with the Black Maternal Health project. (Please check out the info on ICTC's upcoming Black Midwives & Healers Summit in Mississippi)
I've always been a huge supporter of midwives, particularly related to their powerful role in helping black women have full term babies, fewer C-sections and in reducing infant mortality. I know it's important work.
I remembered a post I wrote for my SisterSpace column on WomenseNews about the importance of midwifery and doulas. Here's what I said:
"Could midwives be key to helping reduce the high pre-term birth and low birth-weight baby rate that continue to plague black women of all socioeconomic levels? Could midwives help reverse the high exceptionally C-section rates among black women and reduce the shamefully rising maternal mortality rates among black women?
And birth center models like The Birth Place, http://thebirthplace.org an unique midwifery and women's health center in Winter Garden, Florida run by Jenni Joseph, show impressive results in reducing pre –term births.
But, why? The answer, as it unfolded before us, was in the education that midwives provide. Expecting moms who work with midwives are more informed about the birth process than women who work with doctors only. We all know that most doctors prefer that you know less, and trust them more, so that they can do what works best for them and not deal with any pesky little questions about your own life that you may have.
After all knowledge is power.
So when a woman who has had a midwife is told she needs to be induced. She knows she can ask why, if the baby's heart rate is fine and other measures she's been educated on are still ok.
When a woman whose water has broken is told that she must be induced, a woman with a midwife may have been taught that actually unless other indicators show otherwise a baby can be fine for up to 24 hours after the water breaks. It is Hollywood that has told us otherwise, and turned the water breaking into the mad dash to the hospital event that makes for great cinema but woefully misinformed moms to be.
And when a woman has a true (not Hollywood or doctor-friendly) understanding of how long the labor process can be, she won't stand for being told that a C section is necessary because it's been five hours and she hasn't dilated. She will also have been educated on the real signs of labor, so she won't go the hospital too soon where labor can be stunted by laying in a bed and you are more likely to be given unnecessary medical interventions.
These are key pieces to the puzzle. As we know, the answer is not in the prenatal care. Women are getting that. But that hasn't improved matters. The key is in the education–an education that often does not happen in its full measure at a traditional doctor's office. And that's what midwives can provide."
Erykah Badu has already been working as a doula, or Erykah Badoula, as her clients allegedly call her. Would you let Erykah deliver your baby??
Have you used midwives or doulas in your births? And why aren't more of us using them?