Me, an Oscar, Gov. Mike Huckabee & Breastfeeding. Go figure!
Last week, I had the pleasure of appearing on The Huckabee Show to discuss breastfeeding, more specifically, the recent brouhaha over Gisele Bundchen's comments that breastfeeding should be a "law." Anywho, it was an interesting segment. Check out the pics below (including my shot with an Oscar–it was heavy!!) and video clips on Mocha Manual's YouTube channel and on the Huckabee Show's website. Oh, and check out my new short do (thanks Stacey Ciceron) and is it me, or do my legs look great in the Part 2 You Tube clip???…though desperately needed to camouflage mid section, btw.
Oh and definitely check out the Part 2 clip because I got to say "oversexualization of the breast" on television!! Whoo Hooo!!
The Video Clips:
Huckabee Show: Two "young" mothers debate the issue. Me? Young? Thanks Gov, I'll take it!!
http://huckabeeonfox.com/2010/08/breastfeeding-debate/
Clips on YouTube:
Part 2: http://www.youtube.com/watch?v=9Qkm0m6_Z80
The Pics: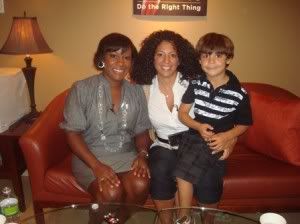 Gina and I pose with her son
Me & Gov. Mike Huckabee
Me & Oscar
Huckabee set